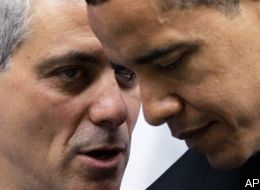 I've already
posted on this topic
so I won't bore you again. However, reports are that President-elect Obama has
asked Congressman Rahm Emanuel to be White House Chief of Staff
and that Emanuel has said
yes
.
ABC's George Stephanopoulos reports that a close ally of Obama's stated that "
Obama likes the fact that Emanuel knows policy, knows politics, knows Capitol Hill.
Obama has told associates that he knows that Emanuel will 'have his back
.'"
UPDATE I:
Emanuel says yes
.
UPDATE II: Here's
a nice biographical piece about Rahm Emanuel and his brother
s from the
Washingtonian
, published May 2008.